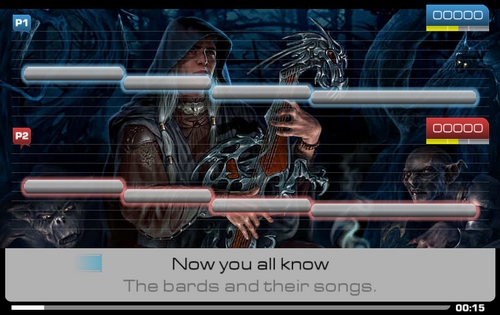 I don't think I'll be submerging myself in it any time soon but I have to post about Ultrastar Deluxe because it reminds me of my younger years spent with homebrew stuff like Kick it Up and Stepmania. It was an age when communities came together and totally free software did amazing things in an effort to subvert "the man" and bring every iteration of Pump it Up and Dance Dance Revolution into one (or two) amazing, all-encompassing packages.
Ultrastar is trying to do the same thing for Sony's SingStar, recrating the interface and giving it a serious feature boost by way of an open source engine that allows up to six singers at once and an editor to import and synch up lyrics to just about any MP3 you throw at it. Of course, hosting all the official SingStar songs is a little too shady for Ultrastar to endorse themselves so you'll have to go digging through their community for FTP or IRC or BBS links (that's what you kids use these days right?), but the site does offer several Creative Commons licensed songs complete with music videos.
With people getting into Home Theatre PCs and inter-household network streaming, Ultrastar could prove to be a huge hit in the coming years, but that's probably about when they'll be sued out of existence. Check it out now party people and keep those install files backed up!