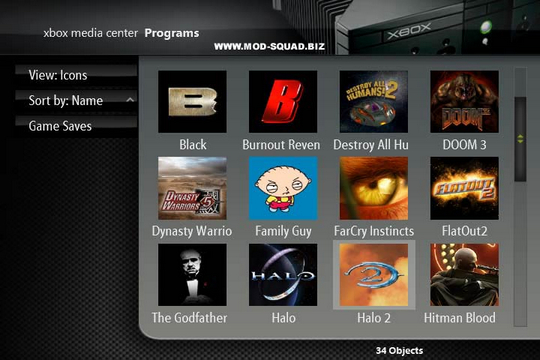 I've been looking at the rows of games I've accumulated for the  "modern consoles" that sits next to the TV and contemplating a little pruning. I never got into modding the PlayStation 2 and GameCube discs work just fine on the Wii but I did get into the whole Xbox Media Center thing in the early 2000?s and those dusty, green boxes are slowly starting to lose their emotional ties. Of course, having a modded Xbox sitting around makes them the most expendable but I assure you I love Brute Force just as much as ICO. This is more of a convenience purge.
For those not familiar, Xbox Media Center started out as just what it sounds like; a fantastic piece of homebrew software that let users turn the green 'n black Xbox into a dazzling and fully capable media center. Tied to the internet and a PC, the thing can still run circles around what's possible on corporate sponsored DVRs and even Microsoft's own Windows Media Center. What I used it for — a lot — was games. Emulators were pretty fantastic on the thing and with a few key utilities it was as easy as clicking 'copy' to dupe a disc-based game onto the hard drive. And that's what I'm thinking about nowadays.
I own almost 40 original Xbox games and though they're almost all still special to me, I think I can disconnect from a few and continue to de-stuff my life. This plan also hinges on early 2000?s technology, or rather, its limits. I forget how much hard drive space even a modded Xbox can read but I'm pretty sure 40 games is pushing it. As time goes by I also have to wonder how much longer the hardware will hold up and if I'll eventually have to keep an LCD display around just to plug the thing into. Older hardware typically requires, not just the TV and consoles but a middle-man VHS/DVD player to get the ancient co-axial plug into play.
It'll be a daunting task if I ever dive back into it but fond memories of that slick interface and its rows of instantly available games feels both soothingly nostalgic and unexpectedly modern. XBMC was enabling the kind of experience in 2004 that we've become so accustomed to on Xbox 360 and PlayStation 3 with downloadable games. Maybe this isn't so much a crazy retro throwback as it is more progress into my all-digital future.
What about you? Any equally crazy thoughts about abandoning old games and the dust that they support?