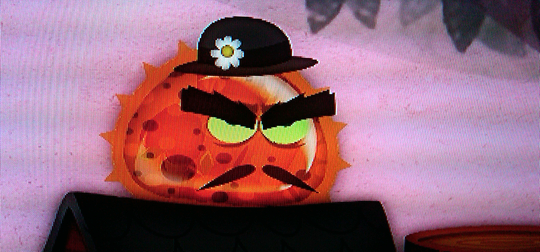 In an update weighing in at 219 megs, indie game and PlayStation 3 exclusive, Tales from Space: About a Blob, is getting a nice little upgrade. "The ability to customize the Blob is something we always really wanted to do, but just did not have time to implement for the initial release," said DrinkBox COO Graham Smith. "I'm excited that we are able to finally get this feature into the hands of players!"
As part of the upgrade the game now has two other noteworthy features: incentive to collect the thousands of blue pick-ups scattered all over each level… and paid DLC. I straight up skipped many of the nebulous orbs on my first playthrough as the only reward for finding them all was a single PlayStation Trophy but now I've got motivation. A decent handful of eyes, hats, ears, and patterns are unlocked by trading in your blue dots for the goods. If you really love to dress up your blob, though, there's a separate add-on for $2.99 that gives you access to "premium" hats, glasses, lips and more. It's a nice addition for the indie puzzle/platformer that adds even more personality to the proceedings but I don't know if need much more than the surly, spikey, Mexican madam I created for free.
Grab the game straight away or check out what I had to say about it on last week's episode of The GameLuv Show.