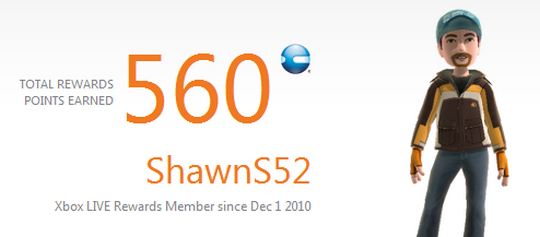 I've been wary of Xbox Live's Rewards program so far but look at that 560 Points I've gotten back for basically doing what I normally would. I renewed my Live membership, I took a 5-question survey, and I even got 80 Points back for the purchases I made in March. Now, 560 Points isn't going to buy me that house I've always wanted but that'll easily cover the sale price of Final Fight Double Impact that's only 400 Points this week.
The Rewards deals aren't as hot as they could be but Microsoft is continuing the '5% back on Marketplace Purchases' deal for the month of April and they're also running this Gamer IQ quiz that gives away 1,000 Points a day, 4,000 Points a week, and a grand prize of 10,000 Points. Check in each day and answer some simple questions about Halo, Gears of War and Call of Duty and you could win. So far, I haven't… but I could! And that's promise enough for me to keep trying.
P.S. There's this deal too: From now through May 15, spend 200 or more Microsoft Points in the Xbox LIVE Marketplace and get a Halo Banshee avatar item free! Whippee!!!