ArcheAge Travelogue: Wet Work on the High Seas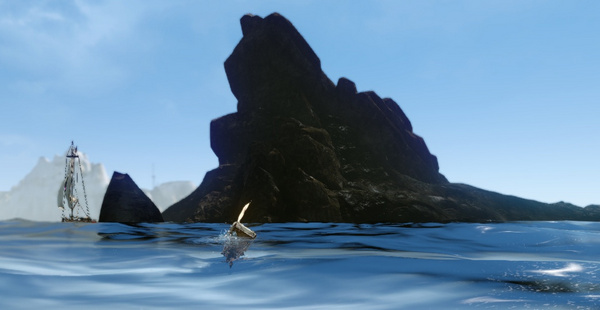 While the vast majority of ArcheAge's underwater terrain is simply empty peaks and trenches, there's loads to find down there. Oysters and abalone can be harvested for some quick gold and shipwrecks randomly spawn treasure chests that can be brought to the surface and salvaged. There's a volcanic field of steam vents I haven't been able to explore yet and plenty of high level enemies to skirt around or be slaughtered by. That probably explains why I keep finding long-lost trade packs at the bottom of the sea.
Unlucky trade runners get caught by seabug mobs or giant jellyfish and the pack they were hoping to sell overseas for a hefty profit or rare crafting materials slowly sinks as they respawn back on shore. That was apparently the case with this pack that took me a few attempts to drag out of enemy territory and swim to the surface. My boat has oxygen tanks but once you reach the trade pack you have to swap backpack items. Without breathing potions or buffs it's always a frantic speed-swim to see if you can make it back to the surface before dying yourself.
This one wasn't too much of a problem to cash in. In less time than it would've taken to grow the ingredients to make these trade goods myself I brought it up, sailed to shore and rode it into town for a spot of gold.