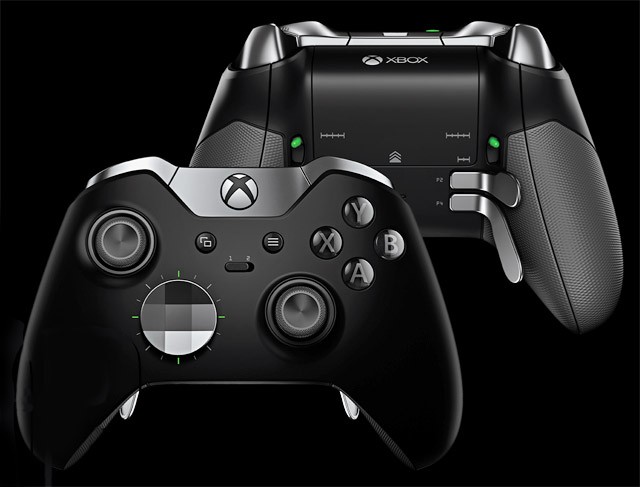 UPDATE: There's no new info but if you want to see some more angles of the controller as well as its carrying case, Microsoft has a swanky page up for it.
I was going nuts yesterday looking for concrete details on that crazy new controller that Microsoft showed off. So with this press release in hand I'm just throwing this up as quick as I can in case others are looking as well. The biggest point that they didn't mention at the show, though, is the price. $150. Ouch…. but maybe it's justified? Check out all the junk it comes with and what all it can do.
Available October 2015 for $149.99, the Xbox Elite Wireless Controller package will include:
Carrying case
Set of four paddles
Set of six thumbsticks: standard (two), tall (two) and domed (two)
Set of two D-pads: faceted and standard
USB cable
AA batteries
The Paddle Buttons
There are four slots on the back of the controller for the new paddle buttons and you can use them in any combination. You don't need to plug in and configure all four if, for example, you just want one paddle for your right hand. The wording in the press release implies that these four paddles will execute button macros for "intricate jump, aim, and shoot combinations". On one hand this could address the repetitive stress and fatigue problems I run into but it could also automate spamming/cheating/griefing. We'll have to wait for more hands-on reports to see how robust this functionality is but probably don't expect these to be supported in competitions.
The Faceted D-Pad
That new D-Pad looks like a diamond but how does it feel? The jury is still out but the press material states that the faceted pad will "enable more confident combo execution" while the traditional D-Pad provides "precise control to change weapons or call in a strike". So the new one is… mushy? At least Microsoft continues trying new things with the D-Pad and if you hate it just swap it out for the old one.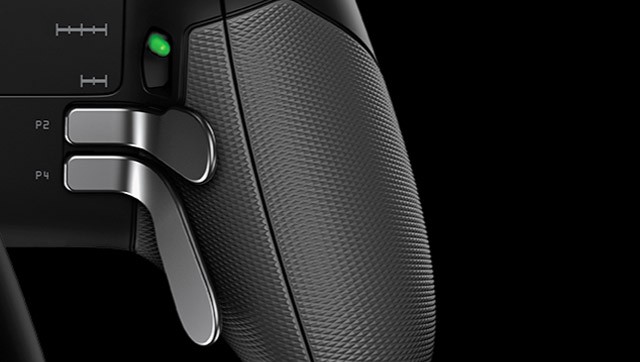 Trigger Locks
The soft, smooth throw of the current triggers feels great for driving a vehicle but for guns some folks find it too squishy. Now with the trigger lock switches you can stop the pull on the triggers a little shorter. Flip it back and you've got the standard full range of motion. I didn't catch it in the video but the switches for the triggers are on the back of the controller so you can quickly flip from short to long throw without looking away from the screen.
Xbox Accessories App
How do you control the macros on the paddle buttons or fine tune your stick sensitivity? With the Xbox Accessories app for Xbox One and Windows 10. With the app you'll be able to:
Adjust trigger min/max values
Adjust thumbstick sensitivities
Change button assignments for any of 14 inputs (ABXY, paddles, D-Pad, triggers and sticks)
Create up to 255 profiles unique to individual games
Load any 2 profiles to the controller and switch between them with the Profile switch
It's worth repeating the press release here so it's clear: the Elite controller will work with PCs running Windows 7 to play games but to use the Xbox Accessories app and configure the thing you'll have to be on Windows 10. Otherwise you'll need to do all the adjusting on the Xbox One itself which may not let you customize profiles and macros for PC games.
Worth $150 for all that? I didn't think so at first but the paddle buttons alone may be worth the price for comfort and convenience. It would've been nice if the package also included the $25 USB dongle you need for Xbox controllers to work wirelessly on PC. And there's also been no confirmation of the headset/headphone functionality on this model. So that's all that I know about this thing without being at E3 to try it out and ask more questions. No doubt, though, we'll get all the answers by the time these things are available in October.