Big surprise, all the games I like a lot are the ones I spent the most time with. This category is always just for the love of data and keeping track of some figures. Given how obsessed I was over Metal Gear Solid V it's no surprise I sank 206 hours into its open world of opportunities, repeatable missions, and gargantuan research/upgrade trees. This is the part where it exceeds its predecessor, Metal Gear Solid: Peace Walker, with a more varied and satisfying loop of strategy and resource gathering.
Far behind Metal Gear is Fallout 4 leading the rest of the pack at 82 hours. For the first 20 hours I wasn't even sure I liked it but I slowly remembered what Bethesda's open world games are like and found a comfortable groove of exploration and scavenging. Giving the junk that litters the world of Fallout a purpose was a devilish and ingenious innovation. Adding a base building/interior decorating mode was downright uncalled for. Needless to say, I'm still hooked and it'll probably be another 50 hours at the least before I've seen the main storyline through.
I've traditionally kept this category reserved to games released in the last year so I'll just make a quick mention of two pre-2015 games. I put in the majority of my 89 hours with Metal Gear Solid: Peace Walker back in January. Long enough before The Phantom Pain that I wasn't burned out and recently enough to have a unique perspective on the changes between the two. It's still my favorite Metal Gear after MGS3. Early in 2015 we also went back to Earth Defense Force 2025 and put in another 50 hours working on higher difficulty levels.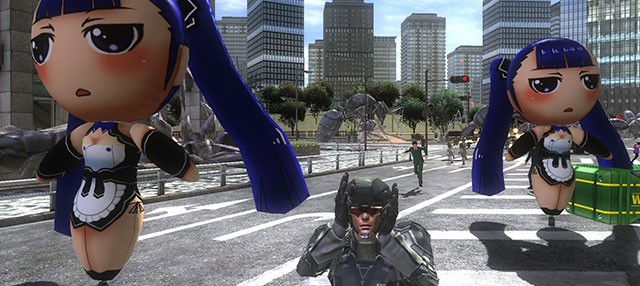 That makes it especially funny to admit that Katy and I only played the latest Earth Defense Force 4.1 for 47 hours in 2015. Granted, it was just released in December but technically I played more of the older entry than the new one. That's not to say it isn't better in every way. There's remixed missions, improved performance and appreciable tweaks to the gameplay for all 4 classes. There's more of what we love in 4.1 and it's more approachable and enjoyable than ever before.
Spelunker World is a tough one to call. There's no timer built into the game and I've replayed levels countless times so just finishing the available stages isn't a good gauge. While I loaded it up almost every single day I didn't always play a ton after grabbing the daily login bonus. I roughly estimated that if I played the game for five minutes a day from when I first got it I'd be somewhere around 22 hours. I know I spent some days playing stages repeatedly and others trying to decipher the tooltips in the Japanese version. So I'm gonna call this just shy of 50 hours after all's said and done. It's super great you guys, let's keep playing it all through 2016 as well!

Last of the top five is Massive Chalice. After 31 hours I'd spent 300 years in the game's storyline, gruelingly trying to craft a lineage of ancestors and successors that would be strong enough to cleanse the encroaching Cadence. There were times when I thought for sure I'd be starting it all over but I managed to dial in the game's pacing and strategy and wound up with one amazing lineage. It only lasted me about twenty days but it was a fun, harrowing lesson in Applied Genealogy.