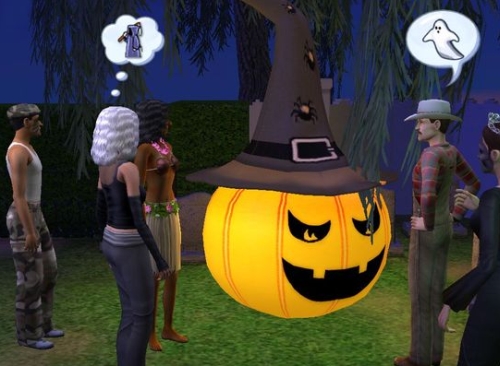 I don't think I'm being egotistical calling it a Legendary post. I think I've kept it up for about 8 years now and not even aching (but improving) hands are gonna stop me from doing it again! So here ya go, some quasi-creepy tunes from a handful of games… and I tried not to post the same stuff I always do.
Artist: Kazumi Totaka
Album: Luigi's Mansion (GC Rip)
Title: Outside
Download this song here.
Hey, I finally got to listen to some of this music and there's good stuff beyond the whimpering-Luigi-humming theme song!
Artist: Kazumi Totaka
Album: Koopa Loud Music Nintendo Sound Selection Vol.2
Title: Fortress Boss
Download this song here.
A radically remixed tune you may remember from Super Mario Bros. 3. It's not particularly Halloween-y but dammit, I like it!
Artist: Russell Shaw
Album: Theme Park Original Game Rip
Title: Ghost House ~ Haunted House
Download this song here.
I dug this one up from way back on the 3DO. It's only scary in the way that it perfectly fills all the criteria for a hokey spooky cartoon ditty. Oh, and Russell Shaw composed it long before creating the much-more-atmospheric music in Fable.
Artist: Undefined
Album: Undefined
Title: Undefined
Download this song here.
Ok, so this one just HAS to be in any Halloween mix I'm involved with. Body Harvest remains a personal favorite of mine and a showcase of just how great N64 music could be in the right hands. Umm, this one may or may not work but like usual I have no time to figure out why.
Happy Halloween everyone!