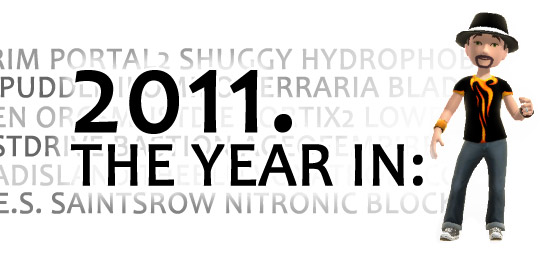 What a weird year in gaming 2011 was for me. Games continued to get chopped up into smaller, more annoying DLC chunks. Kinect, which I was pretty excited about in 2010, had only one or two titles worth even a glance. The "AAA" titles were mostly sequels to games I haven't cared about this whole generation. The quirky Japanese stuff continued to dry up. I voluntarily skipped Uncharted 3! Between catching up with Fallout New Vegas and journeying to Skyrim I spent more time in 2011 with Bethesda games than anything else. I could go on and on about how I am at odds with the modern gaming populace but I think my 'of the year' winners below probably illustrate it much better.
Favorites of 2011 – Retail
The Elder Scrolls V: Skyrim
Portal 2
Saints Row: The Third
Dead Island
Test Drive Unlimited 2
Favorites of 2011 – Download
The Adventures of Shuggy
Terraria
Orcs Must Die
Beyond Good & Evil HD
Age of Empires Online
Most Hours Spent
Fallout New Vegas (110)
The Elder Scrolls V: Skyrim (72)
Dead Island (53)
Test Drive Unlimited 2 (47)
Saints Row: The Third (37)
DLC I Willingly Paid For
Age of Empires
Bastion (Soundtrack)
Dismount13
Beat Hazard Ultra
Mass Effect 2 – Arrival
Best Undead Encounters
Dead Island
Dead Nation
I've kept track of the games I've played for several years but it wasn't until 2011 that I broke them down into a multi-functional spreadsheet. Seriously, thanks to the magic of Google Docs you can check it out yourself. It's not in exacting chronological order but the oldest stuff is at the bottom. I also have charts! Delicious and colorful pie charts that illustrate that I got way more games on the cheap than I paid full price for and that most of those were still brand new 2011 releases. Go me!
For a more traditional Top Ten list check out my Giant Bomb page where I've made similar annual lists for the past two years. And if you want to get even more granular than that spreadsheet, my Raptr page breaks it down by hours played and Achievements unlocked and more. If you're going to those lengths you might as well take a look at my 401(k) and offer your investment suggestions, and while you're at it could you take a look at this thing growing on my leg?
Just past the break is your bonus Close-Personal-Friends-of-Me Awards as shamelessly solicited on formspring! Never mind that thing on my leg, this should give you that blinding insight into the Me of Me.
(more…)