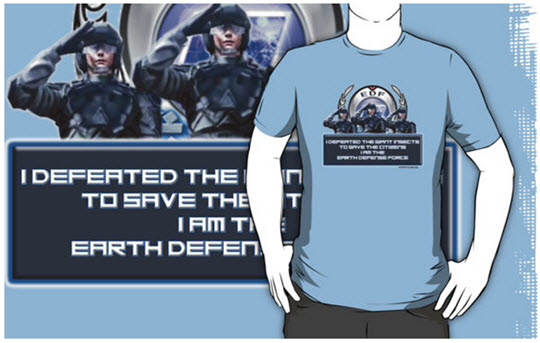 You guys, Katy makes a lot of awesome stuff. She's on Red Bubble, Storenvy, Etsy, and Gumroad with stickers, cross stitches, shirt designs, jewelry and more.
This week's featured item is from Earth Defense Force 2025 which we're currently obsessed with. She's got two designs — the one seen above and another that's more like a logo — each available on a variety of tops in even more colors. Katy says:
Commander: Give me a status report

Troops: The citizens are being attacked by giants insects!

Commander: Attack the giant insects and protect the citizens!

Troops: YES SIR!

– Earth Defense Force 2025

The Earth Defense Force, a unified multinational military sponsored by nearly every country, is founded after detecting an impending alien visit in case the aliens prove to be hostile. In the year 2017, that proved to be true and the EDF fought against the Ravagers, an alien race that attacked Earth with giant insect-like creatures, UFOs, robots, and gigantic, 120 foot tall lizard-like creatures. Eight years after defeating the last Ravager in Arizona, they attack again with new creatures, evolved from their underground nest. Among them is the Retiarius, a spider-like creature which makes gigantic spider-webs, and giant bees. In the year 2025, the EDF must protect the Earth again from the alien invaders. source

I love this game series!!!