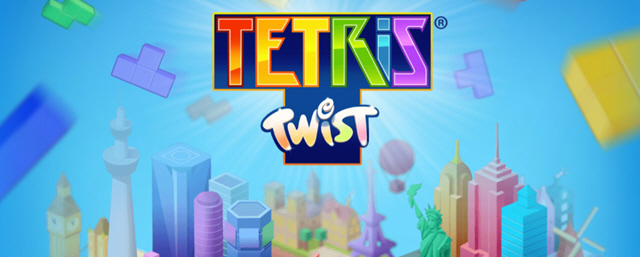 I've been a little fixated on Tetris lately so I gave the announcement of Tetris Twist more than my passing oh-they-made-a-new-one reaction. It's also free and browser-based and built in HTML5 so there's no need to install a dubious plug-in. That makes for a pretty low barrier to entry. Unfortunately, the biggest "twist" in Tetris Twist is the mobile gamification built around the classic gameplay, despite not being playable on a mobile device. I present the evidence:
Exhibit A: a sprawling world map of bite-size stages
Exhibit B: a 3-star rating system based on score
Exhibit C: excessive ads
What this amounts to are 90-second sessions of Tetris bookended with a commercial or sometimes a blank box where a commercial should be that requires you to refresh the entire page. This goes on and on in chunks of 20 stages, each based around a new city with a new gameplay element. The first "world" introduces score cells that sometimes force you to fill up the well with junk on purpose to reach and clear them. The combination of pre-set garbage lines and score cells adds just a little strategy to the familiar game of Tetris.
There are promises of intriguing mechanics like Gravity Mode and Hourglass Mode that I'd like to see but they're buried behind constant commercial breaks and a finicky new control scheme. Also very mobile-centric, the default controls use only the mouse and two buttons to play. Left click drops, right click swaps out your Hold piece and there is no rotation control. Instead, the silhouette of your rapidly sinking piece "sticks" in different configurations as you move the mouse around. It enables faster play and makes risky T-Spins effortless but it fails when the speed ramps up or precision placement becomes critical. Lo and behold there are classic keyboard controls which the game never points out but the mouse is what it was clearly designed around.
Like so many other free-to-play iterations on classic franchises (I'm lookin' at you Plants vs Zombies Adventures and SimCity Social), Tetris Twist has me torn up. I liked playing it, even with the funky new control scheme, but the constant interruptions and brief stages turned me away before I could get to the interesting new parts. But you don't have to take my word for it, Levar, because it's free! Try it for yourself and let me know if it gets any better after Stage 40.