Going through all the entrants for the 17th annual Independent Games Festival this year got me thinking: This is the fourth year I've done this and some of these games I've seen every year while others I've lost track of. So I went back to my bookmarks archive and quickly checked in with some of my top picks. I'll do a separate post this week for each year I've been at this so let's start at the start, IGF 2012.

Causality Flux – Their homepage has never expanded beyond some placeholder imagery surrounding the same trailer they submitted to the IGF. It's one of those games that looked promising but probably isn't going to resurface. This happens a lot and it's the No.1 pitfall of going through all these IGF games.
Crabiton – After launching on iOS in 2011 and being one of the last iPad games I was interested in, Two Lives Left are now bringing the space munching game to Kinect for Xbox One. With Kinect able to track fingers in a very crab-like manner it seems a perfect fit.
Crystalides – One of the games I was most excited about started out in 2011 as a Java-powered cellphone game. Since then the project has been retired with the universe and some of the gameplay I loved retooled into C-Wars. It's been Greenlit for Steam and continues development after a Kickstarter fully funded it in 2013.
Fader – One of the first "controlling different stuff on two halves of a screen" games I ever saw and it's still not out. The combination of art style and music are why I'm still holding out for Fader. The latest from developer Chris Makris' twitter is "I move like molasses". Glad to know it's still in the works.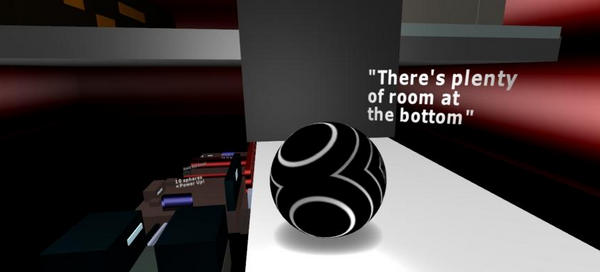 Leshy – I've played a lot of "rolling ball puzzle/platformers" over the years so if you see one in these lists you know it's something special. While an expanding and contracting ball doesn't sound like much the developers nailed the sense of scale even in this short demo and it blew my mind. I've followed up with some of the team because I think about Leshy a lot but unfortunately the project never went any farther. Shame, but at least we can still play the demo and dream!
Nitronic Rush – That other DigiPen game I just mentioned, it's as close to San Francisco Rush as we're going to get. Much of the team has gone on to make Distance which looks similar but, to me, feels even more about survival than the classic Rush vibe Nitronic held to. Both are fabulous in my book though.
Nous – Another DigiPen team game like Leshy and Nitronic Rush, Nous was a great 4th-wall-breaking twin-stick "shooter" with some great moments. Brett Cutler, Nous' designer, is now at 17-BIT working on Galak-Z which makes perfect sense from what I've seen of it and Nous.

Project Zomboid – The game has come on by huge leaps since 2011 but it continues to be an Early Access affair. Once it's content is certified "Released" I'll jump back in but since my first blush with the game I've put it anxiously on hold.
Proteus – The visual wonderland of Proteus wowed a lot of us in 2013. It's continued making the indie hop from platform to platform. Ed Key, one half of the game's creators, continues to blow up my twitter while simultaneously exploring the U.K.'s outback. The lucky bastard.
Red Rogue – Possibly the web-based game I've spent the most time with. At a moment when all I wanted were roguelikes, here comes an adorable, side-scroller with mysterious loot, adorable (but gory) animations and a fantastic, muted color palette.
Treasure Adventure Game – This was one of the first times I'd heard a 2D game referred to as featuring an open world and it captivated me. Turns out what they meant to say was it's 'just like Metroid'. The soundtrack has persisted much longer as a personal favorite though. And much like Spelunky, the pixelart original has been redrawn "as originally envisioned" and is working its way towards a full, expanded release as Treasure Adventure World.