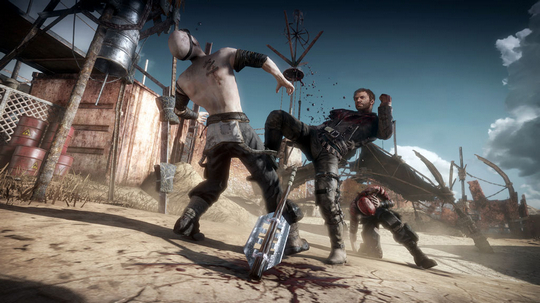 Turns out Mad Max is the Avalanche Studios game we've caught a glimpse of in the past. Sony showed it off during their E3 press conference but it is definitely not an exclusive. It's another cross-generational game coming to both Sony and Microsoft platforms as well as PC.
There have already been concerns that it won't be as much fun as Avalanche's Just Cause games but their lineage of big, stupid action is immediately visible in the first screenshots. Max is dressed in black just like Rico and while he doesn't have an identifiable parachute or grapple gauntlet he is wearing some kind of leg brace. If movies have taught us anything it's that typical medical devices often make you superhuman.
The screens also highlight a much more advanced hand-to-hand combat system with stunned enemies and melee weapons. If that's not enough, imagine Just Cause's ridiculous stunt position system applied to physical combat. You can also easily spot a stack of red barrels, proof that this is a video game world ready to be detonated at a moment's notice. It's also a video game world full of scraps to salvage to craft new gear, weapons and car mods.
Speaking of stunt position, the other screens feature Max's car — the Magnum Opus — with thugs clinging to it, possibly after their own ride explodes. While the game's environment may not lend itself to parachute skiing, the vehicular tomfoolery is being scaled up to compensate with mounted weaponry and "inter-vehicular combat". Muscle cars, semi trucks and gyrocopters are guaranteed to transport you across the game's promised open world whenever it's presumably released alongside the movie in 2014.