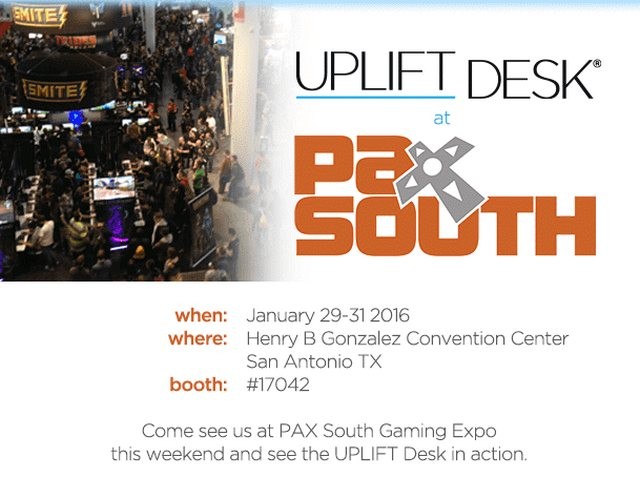 I spent a lot of my life working retail in one form or another. On those long days of standing at a register or running a thousand times around a sales floor I'd daydream about a "cushy desk job". A faux leather chair and a fake woodgrain desktop are all I need to be happy, I'd say to myself. When I finally did get a desk job in 2012 it quickly came to ruin my body in all the ways you'd expect and more.
To help out I upgraded to a standing desk solution — an olla podrida of IKEA parts and spare books — but now I daydream of something new: a real standing desk. I haven't pulled the trigger on any brand yet but I've been mighty impressed by The UPLIFT Desk for a while. They were one of the first conversion desks I saw that was able to mechanically rise from seated to standing height and in the pantheon of competitors they're one of the more affordable.
Why do I even bring this up? Because ergonomic office supplier, The Human Solution, is going to be at PAX South this weekend showing off the UPLIFT desk and how it can be beneficial for work and play. It doesn't sound appealing, I know, but it's even easier to stand and play than it is to stand and work. Once you get sucked into the game you tend to forget you're standing just like you aren't actively thinking about how you're slouching on a couch while playing.
It's great to finally see someone getting out there and talking up these products and this mindset to gamers. We've all been beaten over the head about monitor height and posture adjustments on the job and we should probably keep that stuff in mind while playing. So if you're in San Antonio this weekend (and PAX badges aren't totally sold out) go stand up and play games deliberately, not because they're attached to stand-up kiosks.