Good ol' GameLuv. It isn't real popular and it's not a super fancy website but we'll have been kickin' it here for ten years as of Fall 2016. The site has definitely been more popular in years past but that success seems to have moved over to my YouTube channel as everyone seems more interested in watching rather than reading. Part of that is my own fault. I only managed 91 posts for 2015, a record low since 2012. I didn't even keep up with making a post for every video I uploaded, it just felt spammy but I probably should've done it anyways. I also started writing for Original Sound Version.com in 2015 which redirected a lot of my energy and effort. Most of that stuff wouldn't have made it here but I could also have whipped up a quick recap of what was going on in the game music scene.
Some new WordPress stats this year have narrowed down my most popular day and time to Wednesdays at 8 am so I'll be sure to schedule more posts around that time and see what happens. In other categories our top referrer was, naturally, Google followed by all the other search engines. Some of the search terms that brought people to the site were:
luv game

ebay wii dance

sony3

archeage abalone location

x-men living starship

kpop dance festival wii

"stalk n roll" jingle bells
It's good to see people still tracking us down for that K-Pop dance game on the Wii and ArcheAge tips. That last one — "stalk n roll" jingle bells — leads to one of our earliest posts from December 10th, 2006 where I shared some video game music with a holiday theme. Most of the links are broken now but it's great to know at least 3 people found our site by that very specific search.
Our global demographic was, of course, dominated by the U.S. — write what ya know, as they say — but we had several hundred visitors from Brazil, the UK, Australia, France, Canada and most other major European countries. I'll have to keep that in mind and share some of the more interesting news I find from developers in other countries or promotions going on outside of North America.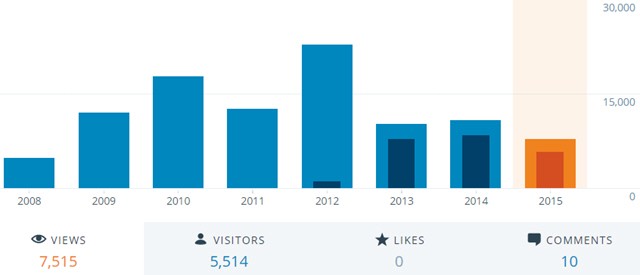 Popular pages continued to be the homepage which I take to mean a few thousand people come directly to GameLuv in a year. If you're one of them, hi! Thanks for stopping by. Of 7,542 views that GameLuv got in 2015, 2,735 of them were to the homepage. No telling how many of those are just me, though, looking for old articles to link back to. Once again our top posts were about K-Pop Dance Festival (567 views), Karaoke @ DAM on the Xbox One (321 views) and Dana's evergreen recap of The Ocean Hunter (242 views).
It's good that people are still finding our content but I would love to see more of my posts from 2015 higher on the list. My update on Karaoke @ DAM was in the top five with 208 views but the rest of 2015's posts drop considerably. My hands-on with Tori Watch and my decryption of the fictional language in Submerged were the next most viewed. Nevertheless, this isn't about hits and ad revenue (though those are nice conciliatory bonuses), I'm still writing here because that's how I love to express myself and the things that I find interesting.
Overall, not a noteworthy year for the site but I still appreciate everyone who stumbled upon us in 2015. Hopefully we'll turn up again for you in 2016 for odd dance games, old video game music, indie games, pixelart, or some other weird, cool thing even I haven't found yet.
Happy New Year everyone and thanks for visiting GameLuv!