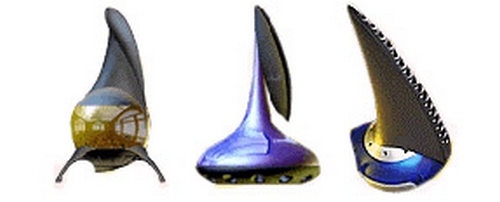 I was flipping through my E3 2000 Directory the other day and among the list of developers and companies gobbled up three times over by Electronic Arts and Atari, was DigiScents. Based in Oakland, California "DigiScents' scent stream software and iSmell hardware will give consumers more lifelike and memorable online experiences including scented websites, e-mail, movies, music, e-commerce, interactive games, and advertising".
I was there at E3 and don't remember this at all. Doing a little search turns up an extensive Wired article from 1999 in which the iSmell box is demoed for writer Charles Platt, and whatta ya know, it worked! In eight minutes of video clips he's presented with 26 scents, most of which he reports are pretty accurate. A tiny fan in a small black box wafts over some oil vials that are controlled by a packet of data. What's more surprising than a functional smell box is that the thing was backed by Marc Canter, founder of MacroMind which would go on to become Macromedia. Yeah, that Macromedia.
So what happened? As you might expect, almost no one was really interested in smelling any kind of media. The company has de-evolved into a scent-tech blog that links to loads of scam sites in hopes of drumming up enough public interest to warrant them taking out a new loan. Pretty amazing technology but is it any wonder these guys were in E3's Kentia Hall, the basement of all manner of would-be, could-be startups?