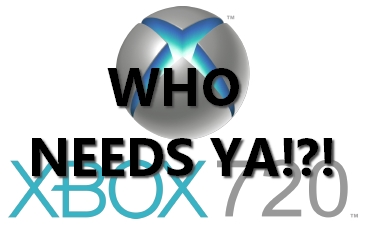 I don't think many of us were expecting a new console arms race to heat up this year (or next) but just to make sure everyone's on the same page, Xbox's Robbie Bach confirmed it this past Wednesday at CES. He stated that even going into its fourth year, the Xbox 360 isn't up for retirement and the company will continue to upgrade and expand the Xbox experience.
Which is great, because I feel like I could stick with the current consoles another four years. I'm perfectly content with our current level of visual fidelity on Xbox and PlayStation 3 and the Wii continues to reiterate just how good they both look. The ever-increasing size and technology of TVs not only keeps this "golden ratio" in order, it makes the HD stuff look even sharper and bigger.
On the hardware side, the Xbox is feeling a bit old. We've been stuck with whirring disc drives and Red Rings for years and the form factor isn't all that exciting anymore; that aesthetic "exhale" feels like it's been blowing hot air for a bit too long. The PlayStation 3 isn't any more inspiring to look at but at least it stays quiet.
Inside the box, though, things couldn't be more exciting. I am completely in love with downloadable games and add-on content. In some cases it may be a cheap ploy to tack on extra sales but if a few bucks keeps an old game spinning then I feel it's really extending the value I get from it. And while I save up or wait for a retail release to go on sale, there's an increasingly solid choice of original games to download. Cheap, easy to pick up and play, and always a few button presses away, these games have surprisingly become some of my favorites. Maybe I'm getting more casual in my old age but a few rounds of Golf: Tee it Up! for $10 feels just as rewarding as soldiering through Fable 2's epic world of side quests and hidden trinkets for $60.
I think late 2008 finally saw the realization of that all-in-one set-top box dream that everyone was promising in the 90's. PlayStation and Wii have a serviceable web browser but what really feels right are the video marketplaces. The Netflix streaming on Xbox is an amazing addition and the fact that I can browse, rent, and watch thousands of movies without budging from the couch on both Xbox and PlayStation 3 is pretty miraculous.
And then there's the whole social aspect. This is most prominant on the Xbox but it's growing on PlayStation 3 as well. Seeing who's online and what they're playing (now even represented by 3D versions of themselves) is changing how some people use their consoles. Instead of sitting down to play a specific game, people are sitting down to play. Maybe they'll jump into whatever a friend is playing or maybe now that they're both online they'll team up in an older game. I know I've downloaded games just for some co-op fun between friends and ended up chatting more than gaming.
It's gonna be an exciting year for the industry. Maybe not in the retail channel with on-disc releases, but within the confines of our consoles where seemingly anything is a few clicks away; games. movies. friends. This economic crisis we're in is going to make things a little riskier, a little more perilous, but I think 2009 could be an epic year for gamers, casual and core alike.