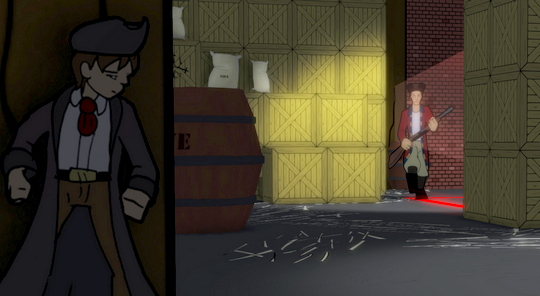 Following a game as it goes in and out of the IGF year after year is a funny thing. I have a hard time keeping up with the games and their developers in the intervening 11 months so I usually end up assuming the game has completely burnt out. And if it doesn't run again the following year? Oh, forget it, total disaster; complete implosion.
That's where I was at with Lantana Games' Children of Liberty. After watching it grow over the course of two years I expected the worst when I didn't see it entered again for the upcoming Independent Games Festival. So I was more than surprised to see the news yesterday announcing a slew of familiar actors lending their voices to the game's up-til-now placeholder cast.
Ashly Burch ("Borderlands 2," "Hey Ash Whatcha Playin'?") as Sarah; Sarah Elmaleh ("Skulls of the Shogun," "Gone Home") as Ally, Margaret Gage, and others; Sean Chiplock ("Dust: An Elysian Tail," "Freedom Planet") as Doug and William Dawes; and Chris Rando ("Dance Central 3," "Codename Cygnus") as Joseph, the Lieutenant, and others.

In addition, the game includes Ed Mace ("Heroes of Newerth," "Tiny Thief") as Samuel Adams; Chris Ciulla ("Fallout: New Vegas," "Dissidia 012: Final Fantasy") as Benjamin Church and others; Cyrus Nemati ("Quest for Infamy") as Royal Governor Thomas Gage; Billy Nichols (Structure Gaming) as Samuel Prescott; and Geoffrey Campbell (Captain of the New England Patriots Endzone Militia) as Paul Revere.
I admit, I don't know many of them by name but those credits are mighty impressive. I'm also happy the game didn't explode and even happier to hear that it's coming to Steam (albeit in Early Access) this Spring. A quick primer on the game itself: it's a 2D stealth adventure in a 3D world set in Colonial Boston just before the American Revolution. Ya know what, here, this probably requires some visual explanation.