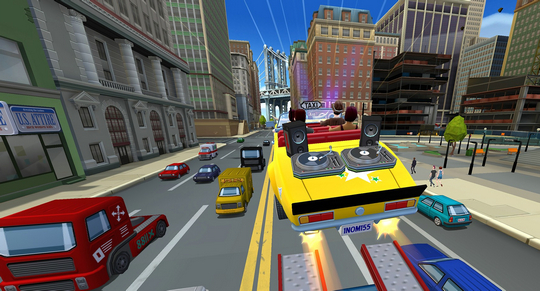 HEY MAN! WHY DON'T YOU JUST COME ON DOWN AND MAKE SOME CRAAAAZY MONEY… for Sega. Right? I mean, this "free to download" Crazy Taxi: City Rush just has to be full of in-app purchases, right? Coming soon to Android and iOS, it's not the "wide variety of adrenaline-fueled missions, wild challenges and unique areas" that worries me, it's the "customize your cab to increase its power and visual appeal". It kinda reeks of "pay us money if you want a high score".
Still, it's hard to argue with the words of Crazy Taxi creator, Kenji Kanno, who's back on board for City Rush. "We are delivering a truly fun game that captures everything our fans love about the original and infusing it with several new features to create an even more fantastic and memorable experience."
I dunno, one of my favorite things about the original was hearing people demand I take them to Kentucky Fried Chicken, not 'U.S. Attire'. Also, The Offspring. If nothing else, this new announcement has spurned Sega into giving away the iOS and Android port of the original Crazy Taxi so go grab that before they jack the price back up.