A Hands On Preview of PONCHO
What is PONCHO? Since I first saw it six months ago all I knew was that it looked gorgeous and was mysterious as can be. Having finally laid hands on a preview build of the game I'm happy to bring you some of an answer to that burning question. Like that indie darling, Fez, PONCHO is a mysterious, 2D, platforming adventure with brain-tweaking dimensional gameplay and lush pixelart visuals. But those high level characteristics are where the similarities end.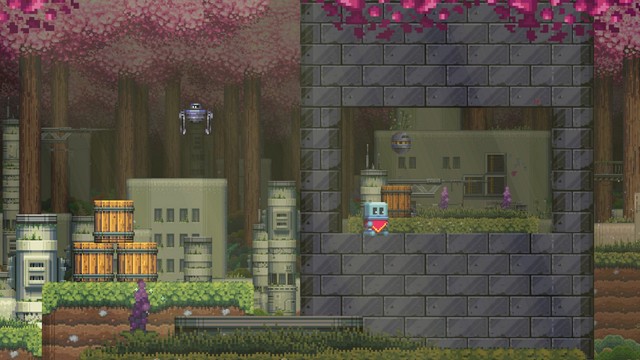 At the outset you're given the most succinct of explanations: mankind rose up, created self-sustaining robot life… and then went extinct. Centuries later you wake up into a new world as Poncho. Cities have fallen into crumbling ruins, nature has taken over and the remaining machines may have evolved on their own. Part of the game's charm are the tiny, pixelated details like robotic caterpillars that wriggle like clockwork and mechanical frogs that bound out of the bushes. Did mankind create robot animals or have the machines grown to fill in the gaps? It's just another of the questions that so easily cross your mind as you poke around while the perfectly fitting, lo-fi chiptune soundscape washes over you.
Besides being the only robot in sight wearing a poncho, you also have the unique ability to leap between Z planes — background, middleground, and foreground — at the press of the shoulder buttons. The story intro and tutorial for this mechanic make for a damn striking first impression but I don't want to spoil any of that. The defining difference with the gameplay compared to similar titles like LittleBigPlanet or Mutant Mudds is that you can change planes anywhere there is line of sight between the overlapping layers. The effect is mesmerizing as planes ripple back and forth, changing transparency and scale as you rapidly move between them.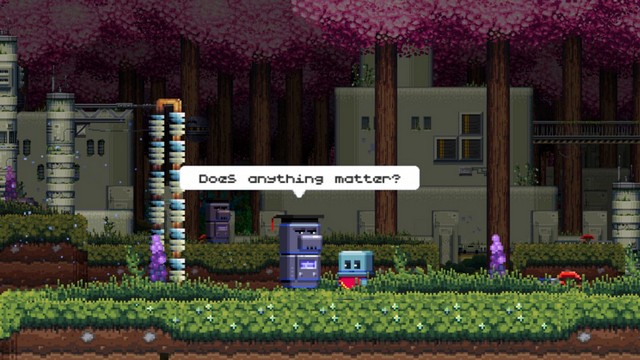 Beyond mechanics, the real point of PONCHO is simply to explore, and I love that. You arrive in a forest and you can head any way you want, periodically running into scholarly bots who spew existential quips about the meaning of life and the absence of the Maker. As you explore you'll find shimmering pickups scattered around and cleverly tucked behind the multiple planes. Eventually you'll come across a warp gate that lets you access new zones but you're always free to come back because, chances are, there's still stuff to find. Those pickups can be swapped for keys (from one of the best shopkeepers ever) and used to unlock new paths. There's also an NPC who shows you how to awaken his dormant followers and rewards your efforts with a new ability.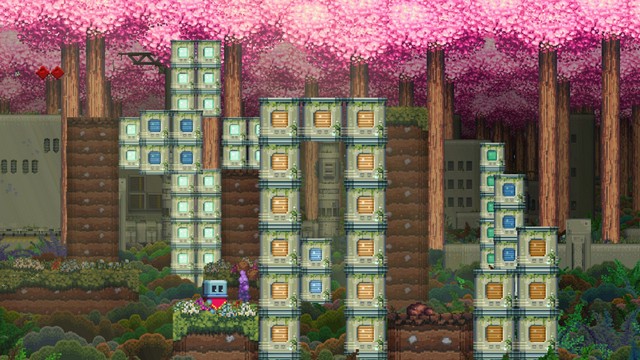 Moving platforms are also present and you probably guessed they aren't the traditional kind. These platforms jump in and out of the three planes and were incredibly challenging for me to navigate. The color coding as they move is helpful but in my time with the game I never managed to really nail it. It's a bit of a bummer but for a game with no combat (love it!) I suppose some aspect of it has to be challenging. PONCHO is no slouch when it comes to precision platforming and while I am no master, the moments where I got into a groove sure made me feel like one.
This build has a few other surprises that I'm not going to detail but they do hint at a bigger game and more narrative. The complete history of this post-human world may never be laid bare but it looks like we'll take part in some interesting stories on the search for the Maker.
I'm thrilled to have finally played PONCHO and even more excited to say the magic didn't wear off. I'm just as clueless as before about what's happening but still as excited as ever to explore and find out. Developer Delve Interactive and publisher Rising Star Games just recently announced the game will be out on Steam this September with Wii U, PlayStation 4 and Vita versions alongside or close behind. I have a hands on video of PONCHO up if you want to see the game in action (which you should) and will be back once it's released with more Now Playing impressions as I work through it.