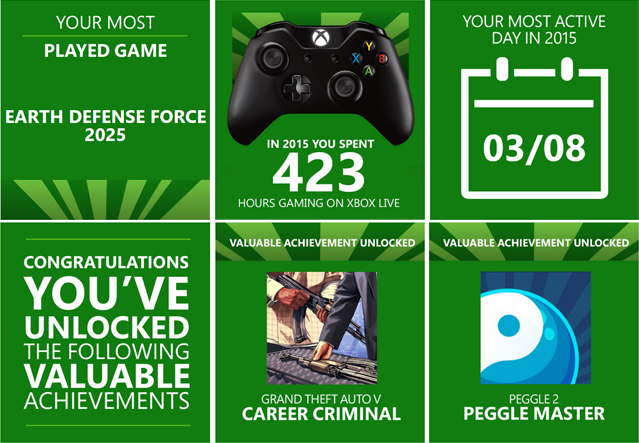 It remains a real head-scratcher as to how Microsoft let the sweet Ivory soap of victory pop out of their hands in the terrifying prison shower that is the Console Video Game Race. As they nearly had it back in their grasp Sony couldn't help but stick out a foot and they've been careening around the grimy tile floor ever since.
I was a real Xbox fan last generation and everything had to be played on the 360. I was even a supporter of their wild ambitions for an always-on Xbox future. Even after they backpedaled I still picked up an Xbox One and was perfectly happy with it through 2014. Suddenly, though, it was PlayStation 4 that was home to the exclusives I cared about and from there it was just as slippery a ride as Microsoft's to have Sony back in my good graces.
So when the Xbox PR machine sent me a 2015 recap I wondered what could even be on it. The full report is much longer with comparisons between me, my friends and the Xbox community but I think this sampling sums it up: I haven't been super hot on Xbox since 2014. In fact, the game I spent the most time with was Earth Defense Force 2025, an Xbox 360 release from 2014 which is, sadly, not Xbox One backward compatible.
Given how few games I played on Xbox One I was surprised and mystified to see I racked up 423 hours on Xbox Live. I thought it was a glitch but then I finally found the culprit; Netflix. Either watching or idling while we cooked dinner, I managed to let that app run for 290 hours, more time than all the games I played on the console combined. The most active day — March 8th — reminded me that way back then I was playing through Sniper Elite 3 and using all of the Xbox One's features. I was editing clips, posting comments and actively "Liking" my friends activities. I even Skyped with Kinect a few times.
But that's about the time I got a PlayStation 4 in anticipation of Metal Gear Solid V and I've been mostly absent from Xbox One since. That explains why my most "High Value" Achievements are from 2013's Grand Theft Auto V and 2014's Peggle 2.
I'm not fanboying over here, I really do like Microsoft and the Xbox One. Hell, I even still like Kinect and miss its voice commands now that my Netflix watching happens on the PS4. Whenever another Xbox exclusive comes along that I'm determined to play I'll be firing it up again… and waiting for eternal Dashboard updates to be installed.