Yo! We outlasted the sleazy Korean guys parked on our domain and we're back with videogamevacation.com and ready to sell you stickers again! It's been an awfully long time since I've had these online so we've still only got the two original flavors (Mushroom Kingdom and Raccoon City) but if this finally takes off I'll be sure to take your feedback and get a historical third print run under way! For now, click below to stock up on your favorite stickers with secure and simple payment through Storenvy.com. Leave us a comment on this page with your suggestions and feedback.
Our first offering arguably has the broadest appeal.
Who hasn't enjoyed Mario's adventures over the years?
Now you can relive your favorite moments with just a glance at this sticker.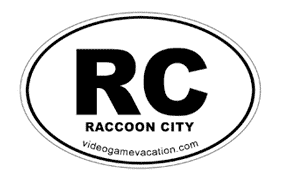 Shamble home from Raccoon City with more than the
T-Virus and a hankering to devour your neighbors!
Prove to everyone that you are the true master of unlocking!
About the Stickers
All stickers are created equal, each one costs $2.99 US. See below for complete billing/shipping information. Each sticker measures 4.25? x 2.75? and is screen-printed on weatherproof vinyl with a peel-away paper backing. We recommend cleaning the surface before applying sticker for a better hold. We have extensively tested our stickers, and while the video evidence is pretty hilarious, we're serious about them being weatherproof and perfectly suited for use on a bumper, window, or any non-porous surface. See them in action in the video above or on Flickr.