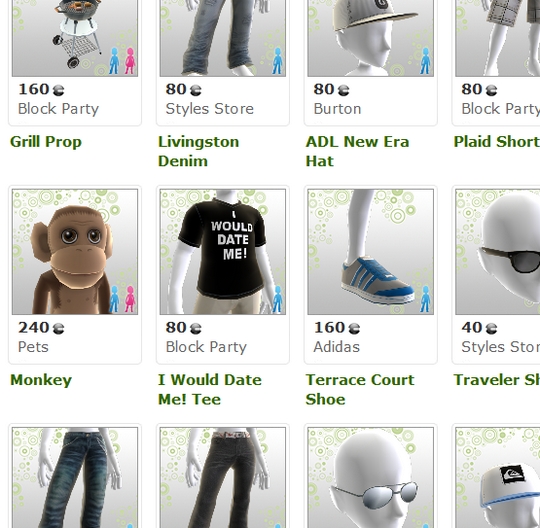 Just some random bullet points as I piddle around on Xbox.com before getting tired enough to schedule this post and go to bed.
the monkey is the top downloaded pet
the Block Party BBQ grill is No. 1 but I suspect that's from the team giving out free codes for days
Perfect Dark is the "best selling" Arcade title with Castle Crashers and UNO close behind
Duke Nukem 3D is categorized as "Other" and not Action or even Shooter
Fallout 3 is the best game to download directly to your Xbox according to user ratings
Game Room's screenshot gallery shows a KROME Studios Avatar shirt and Western room theme
New games won't show up in Game Room until the end of April (by way of their official twitter account)
3D Ultra MiniGolf Adventures 2 looks kinda promising
I have played 164 games! The oldest that I've never loaded up again is Pac-Man on 08/14/06!
The first piece of pointless content I paid for was a Dynasty Warriors 5 picture pack on 09/04/06
There's a page that details the latest Dashboard Updates
I love this link, it shows you the latest content in all areas of the serpentine marketplace!