Grand Theft Auto V throws a lot of info at you, doubly so when you go online. I've poked around in the game and on the Social Club site and here are a bunch of tips and tricks that I've found not everyone knows about. Most useful of all: how to make a closed, friends-only game!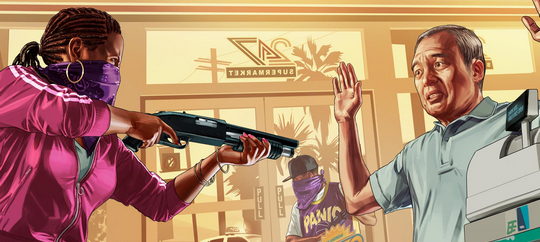 Hidden Menus and Online Modes
From your single player game, press Start, navigate to Online, choose Play GTA Online and then choose a mode. The default is 'Go' which throws you into a random world of players but you also have the choice of Invite Only, Crew Session, Closed Crew Session, Closed Friend Session and Solo, though this last mode specifies "available activities will be limited". Once you're in a mode the only option you have to change it is to join a new session with random players or ditch back to single player and choose 'Play GTA Online' again.
While we're in the menus you might as well hit Start, Online, Options after you're in an online game. This gives you access to your various "mood" settings and Quickplay Actions for races, freemode, and deathmatches. You can set your spawn location if you prefer to spawn at your apartment (after you've bought one) and you can choose how much info is displayed above players' heads in the game. Maybe most useful is the ability to keep the on-screen map expanded; handy if you find yourself always toggling it by pressing down on the d-pad.
Why Rockstar split up these options is beyond me but there's one last place you may wanna check. Press Start and scroll over to Settings. If the game is getting too noisy with incoming calls, award pop-ups, and activity info you can toggle most of them on or off under Notifications. The rest of the settings are mostly the same as in single player but worth looking at if you haven't tweaked them yet.
So You're Finally Playing Online
I lied, there's more esoteric menus here. Hold Select/Back to bring up your quick menu. It's a really handy tool that I've come to wish was available in single player. The top option will quickly let you set a waypoint to the nearest Ammu-Nation, ATM, mod shop, clothing store or quest marker. When doing a mission it will also let you set waypoints for mission targets and locations.
Below that is your Inventory where you can store up a bunch of snacks to refill your health when you can't find a medkit. Buy snacks at convenience stores and fill up your pockets because these things don't replenish a lot of health. You can also put on a mask or change clothing here, both of which have more than cosmetic value. Put on a mask before holding up a convenience store and you won't be spotted (and immediately attacked) if you come back later for legitimate shopping. Changing your outfit will also remove one star from your Wanted level when you're out of sight and the stars are flashing. Last up in the Inventory is the option to set who can get in your personal vehicle so you can keep random strangers from driving off in your car!

Random Tips
Races cost money! If you aren't winning at least $300 from each one you're secretly losing money.

You can navigate to an ATM but you can also head to Maze Bank's site on your phone browser to manage/hide your money.

Take a look at your bank Transaction Log to see where your money's been going.

Passive Mode only keeps people from killing you on foot. You can still be shot if you're driving a vehicle.

If you lock onto another player and hold Select/Back you'll see new options at the bottom of your quick menu to view their profile and crew info.

On the dealer websites on your phone browser the number on the vehicle images indicates how many passengers it can hold.

The game gives loser perks to anyone who dies repeatedly in a deathmatch without getting a kill. Activate these on the Wasted screen before you respawn to get a little edge up.

JP points currently don't seem to have any value. Reasonable speculation says they may factor into the online Heists or other modes planned for future updates.

You can sell off a vehicle at the Customs shops every 48 minutes which is 1 in-game day.

Your online bank account is shared between all your characters. You can't get the free $500,000 for each of them.

If you want to add playlists or maps to your game from the Rockstar Social Club site you need to make sure your Xbox 360 Family settings are turned off or have 'Member Content Privacy' set to 'Everyone'.

If you're looking for something to do press Start and go to Stats. Press A/X on the Awards and Unlocks sections to display a ton of detail on your progress in dozens of categories.

 

Enough, We're Through Here
When you're ready to quit playing Rockstar strongly suggests switching back to single player to make sure your online progress isn't corrupted. Hold down on the d-pad and switch to Michael, Trevor or Franklin or press Start, Online, Leave GTA Online.
There hasn't been any news from Rockstar yet but just as a reminder they have a lot of content planned for the future. Coming soon is the content creator that will let players make races and deathmatches, 300+ new clothing items, 4 beach-oriented vehicles, 2 new weapons, a Capture the Flag mode and multiplayer Heists. All this content is allegedly free according to Rockstar.
Thanks for checking out this immense post. If I learn anything else I'll update it and hopefully have a video covering this same info in the game up soon.