An update on Karaoke @ DAM for Japan's Xbox One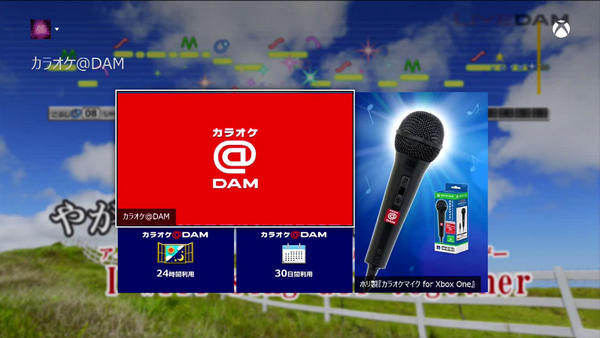 The post I made about Karaoke @ DAM for the Japanese Xbox One last July continues to get traffic so I thought I'd write an update. To promote the service Microsoft and Daiichikosho roped in prolific enka singer, Sachiko Kobayashi, and had her train up on the decidedly-not-enka rock song 'One Night Carnival' by Kishidan. The results are tremendous.
As for the "game" itself, I can confirm it's pretty easy to switch your Xbox One's location and download the app. Unfortunately you'll quickly be confronted with a notice that "communication with the center system could not be sure", according to Google Translate. I take this to mean it won't connect to the server from outside of Japan but it could be because I don't have one of Hori's generic USB microphones. According to the Karaoke @ DAM page it seems no other headset or microphone will be tolerated. I was so close! I'm sure there's some way to tunnel or proxy the Xbox One traffic so it looks like I'm in Japan but I'll leave that work up to someone else.
Once you are properly signed in it looks like you can peruse and preview the entire catalog of songs for free. With plans to add 200 new tracks every week since launch that should give you around 102,000 songs to choose from. Got your VPN tunnel, Hori mic and a list of J-Pop songs you have memorized? Now you're ready to pay. The rates still stand at a reasonable $3 for 24 hours of access or $10 for 30 days. DAM branded Microsoft Points cards are available at retailers in Japan as well. And at least for a limited time, that Hori microphone comes with a free 30 days of access.
That's a lot of hoops to jump through to sing karaoke on your Xbox One and nab some Japanese Achievements. But until Microsoft gives the English speaking world a similar product (and with the death of Karaoke on Xbox 360) this is the only option we've got.
I'm going to keep trying to get on so I hope to be back with another update at some point. In the meantime, here's some higher quality screens I grabbed from the Xbox One.