Is Super Mario Odyssey Nintendo's response to annoying Mario canon questions?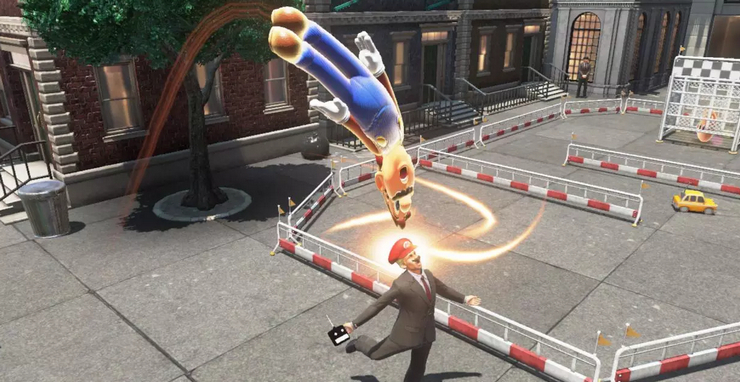 Everything in Super Mario Odyssey seems designed to rattle even the most absurd head-canon that fans have crafted for themselves over the decades of loosely connected Mario games. It started with the debut trailer back in January with Mario running around in the human-sized New Donk City and it's only gotten stranger with this week's E3 reveal.
Pauline, Mario's original heroine from Donkey Kong, is the mayor of New Donk City and its streets are named after members of the DK clan. We'd seen Bowser in a white tuxedo before with Peach at his side in a matching wedding dress but now we see that Mario is also dressed for "the big day". So who is crashing whose wedding and does Peach have any say in this nuptial knockout? Finally, just who is singing the vocal track heard in the new trailer with lines like "I'll be your 1UP girl"? The camera sure lingers on that saucy singer at the New Donk City Festival, doesn't it? Could this be the end for Mario and Peach?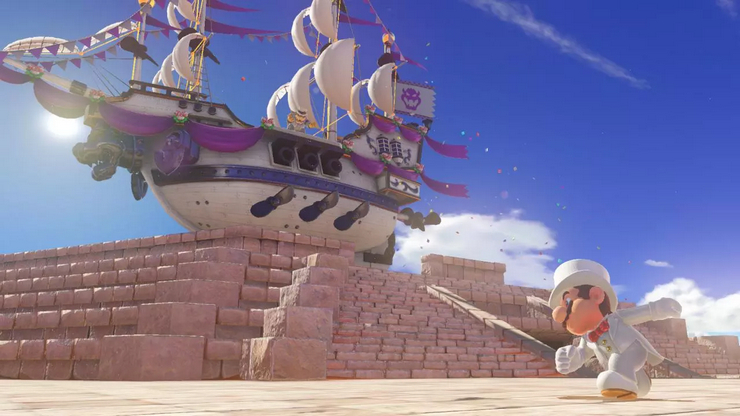 Things are just as extraordinary on the gameplay end of things. Mario's traditional powerups are nowhere to be seen and he instead utilizes the sentient, mind-controlling tophat we now know as Cappy. With Cappy, Mario can do typical video game things like boomerang his hat around to hit enemies or grab coins. What was revealed at E3, though, is a completely surprising mechanic that lets Cappy possess most enemies and suck Mario into them, slapping the red cap on their heads and a mustache on their face.
Goombas, Hammer Bros. and Bullet Bills are all commandeered by Mario as well as totally unexpected objects like taxi cabs, tanks, frogs, Rapa Nui statues and rocket ships that look straight out of Super Mario Bros. 2. Then there are the scenes where Mario is squashed flat a la Link Between Worlds and things get decidedly old school.
Between this and Mario + Rabbids: Kingdom Battle I've never been more excited for new Mario games and there's surely more bizarre stuff to be seen from both; at E3 and in the months leading up to their releases. Bring it on Nintendo, the weirder the better!