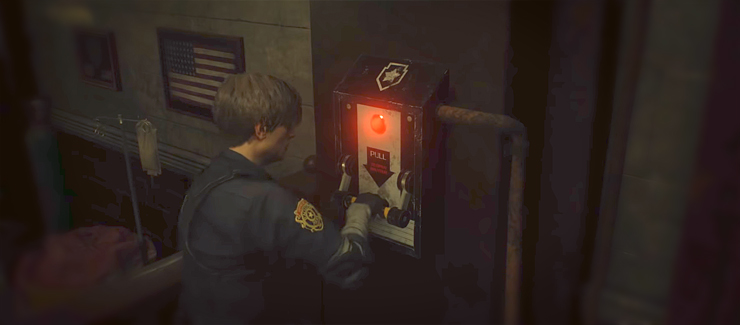 Watching Sony's E3 demo of Resident Evil 2 with Capcom's Mike Lunn and team, I was initially just excited to see the game in action. I've skipped all the previous remakes and haven't touched the game since 1998. Nevertheless, like many, RE2 was a huge moment for me in gaming and so I'm more than happy to see Capcom focus on it instead of pushing ahead from RE7.
But almost as soon as they started running around the Raccoon City Police Department I couldn't help but see a little bit of the fabled Resident Evil 1.5 in the updated design. This mythical prototype version of the game featured a different starring female, Elza Walker, and relied on the station's shutter system to block or open access to the building. This version was ultimately scrapped but footage was released and so it's become one of those gaming legends.
Now twenty years later we see Leon using those same slatted shutters to open paths around the station and possibly use them for crowd control as originally intended. Though not shown, the crew from Capcom also mentioned that boards will be available in limited supply to close off access to intruding zombies from windows or doorways. It makes me wonder if Elza might even show up or if the game's other abandoned design elements like stat-boosting gear will make an appearance.
Whether fully intended or not, this feels like the Resident Evil team finally closing a loop on one of the series' most mysterious developments. I'm even more excited now to get back to Raccoon City and see what I remember and what all has changed! Resident Evil 2 is currently scheduled to release on January 29th, 2019 on PlayStation 4 and Capcom's already got a pre-order up on Amazon.