Shawn had a suggestion to me that he intends to pose to Maxx & Chad, if he hasn't already,  that we all write here more often.  I sometimes find it daunting because Shawn writes elaborate articles & reviews more than I choose to take time for, or have skill for.  He's good at it, he's much more of a writer than I am.  Any writing I once was able to do I have lost from lack of practice in anything other than tweets, text messaging and blogging!  So, his suggestion was that we'd make short posts just to say what we were playing, maybe with an image, to keep a log as well as flesh out the blog.  I say great idea!  That appeals to me greatly.  Also I do not believe in New Year's resolutions.  If I resolve to do something I do it next chance I get and don't wait to pull the page off my Cute Overload page-a-day calendar.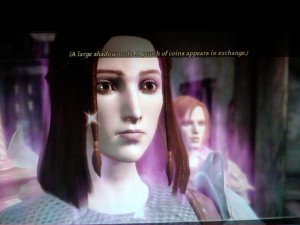 So there you have it, I intend to be more active here starting now.  This past weekend we had plans to see some of my family Sunday, but my sister was sick and we've postponed until later.  We spent most of Saturday cleaning the apartment, which is lovely now, and Sunday became gaming day!  I spent all day playing Dragon Age Origins.
For anyone not listening to the podcast, I originally played it on PC, but rented the xbox 360 version and preferred it.  I just bought it used off our friend, Rob, last Friday.  Huzzah! It is mine forever!  Currently I am playing through as a female Human warrior.  Here's a photo I took to email to my Dad of my character…Alistair didn't have a chance against her beauty & strength.
This game has drawn out a dormant fangirl in me to a scary level (poor Shawn is so tolerant).  I have collected fanart from Aimo and even stuck print outs on my wall at work.  Any others playing DAO?  Love it!