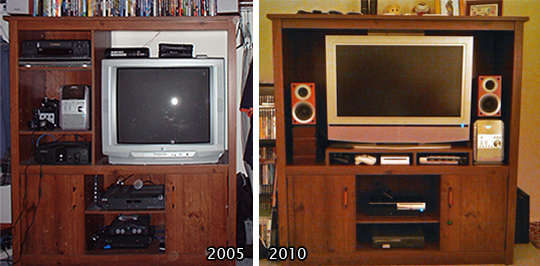 I didn't plan on keeping this Wal-Mart brand entertainment center for five years, but here we are! It hasn't changed a whole lot but the stuff crammed into it sure has! You can probably spot a few of the consoles from here but the photo's Flickr page has handy little notes for just about everything on display. Click it! … or here.
As for the future, this may finally be the year that I upgrade the TV again which would probably (eventually) require a new entertainment center. With TV's getting thinner and thinner I'd like to finally get an equally svelte entertainment center to match; the one key feature being lots of back panels to hide cords. If there's one thing I can't stand… it's cords!
What's your setup like? Got pics? Share 'em in the comments or just tell us about it.