Harry Potter gonna make you sweat, sweat!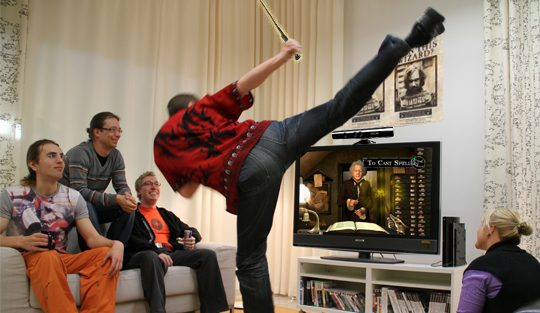 No other literary property had such a strong motion gaming presence at E3 this year as Harry Potter. Whether it's the bicep-busting reps you'll work through with Wonderbook: Book of Spells or the full-body engagement of Harry Potter Kinect, you can't enter the world of J.K. Rowling in 2013 without breaking a sweat!
Wonderbook: Book of Spells presents the perfect mix of upper body workout with the lower body flexibility of yoga. Work that wand arm to defeat mischievous dragons while holding a perfect Baddha Konasana pose with your legs! Don't forget to switch hands between routines or you're left side might need a shot of Engorgio!
Ready for a high impact workout?! You'll swear P90X stands for Potter-times-90 once Harry Potter Kinect is done with you. Relive classic scenes from all hefty 8 books as you jump, lunge, duck, and swing through this game's 30 levels spread across 4-6 hours of action! Play alongside your favorite characters as HPK puts YOU in the game… and under the Sorting Hat. Change spells with your powerful voice by yelling out 'FURNUNCULUS', 'INCENDIO' or 'RIDDIKULUS'! Cool down after a tough workout with some herbology in Professor Sprout's gardens.
She broke your heart with the Harry Potter novels and in 2013 J.K. Rowling is back to break your ass!