My Top 20 from the Independent Games Festival 2015 (Part 2)
Here we are again. It's early in another new year and I've gone through all of the entrants in the Independent Games Festival. There were 639 games entered for 2015 and I wound up with a "short" list of 93. From there I hemmed and hawed for a while and ultimately decided on just 20 that I think are the specialest. Today is Part 2, the final ten of twenty (in alphabetical order). Check out yesterday's post if you're a fan of indie games that start with the letters A through H!
Megaton Rainfall by Alfonso del Cerro Aguilar
"Don't you think that superhero games [should] transmit the sense of power and freedom of movement, that these characters apparently have in other media?" This is the premise for the most impressive first-person gameplay I've seen in years. It's still very early but the scale of environments it's able to push around is astounding and the movement already seems so smooth. I hope this makes it out as a finished product!

Nubarron: The Adventure of an Unlucky Gnome by Nastycloud
Another one with 'gameplay mechanics that help as well as hurt', Nubarron is a hatless gnome, constantly followed by a vicious storm cloud. Stop for too long and you're toast, but you also need to use that lightning to defeat enemies and solve puzzles. It's a clever and wicked spin on 2D platforming and the art style is lush. Unfortunately, it didn't hit its Kickstarter goal and the team is working on a smaller project to help fund Nubarron. It'll be a ways off but I'd love to see more.

Painters Guild by Lucas Molina
I wasn't sure how to handle this game when I first played the alpha. I was gingerly moving Leonardo Da Vinci from tiny, simple paintings to studying… and then I got overwhelmed by angry customers and a pope died in there somewhere and then I lost. There's much more to be added in the final version but I think it's succinct to say this feels like Diner Dash with art, and it's great. I can't wait to see and play more of it. Also, here's Katy and I playing the demo.
Poncho by Delve Interactive
May I introduce you to 'The Next Fez'? Ok, maybe it's more Mutant Mudds than Fez but you can't deny Poncho has a gob-smackingly gorgeous 2D aesthetic of its own, especially when you see it in motion. It also rings just a little of the mystery of Fez but that might be because the trailer is so vague. Either way it gets my vote for the love of parallax.
Road Redemption by DarkSea Interactive
Look, I know the IGF is the place for innovation, invention and even enlightenment. But I also know that I love Road Rash and Road Redemption is the closest thing to it we've had in nearly 20 years. It looks like the biggest, dumbest mess of physics and motorcycles and flying bodies and somehow roguelikes. It's just too bad it's still Early Access.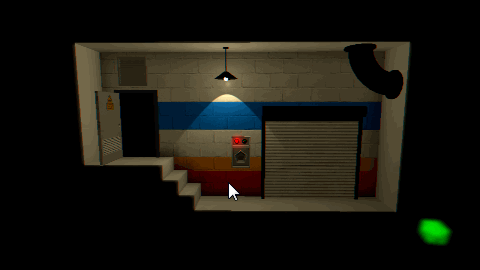 Small Radios Big Televisions by FIRE FACE
Absolutely stunning to look at even in the early demo version! It's simple and gorgeous and mysterious without being pretentious or talky. In fact, it may be the silence and lack of characters I love the most. You can watch me play through the demo for more ineloquent ramblings about how I love it.
Submerged by Uppercut Games
I was already intrigued by the characters floating ominously in a boat. When I realized it was the rooftops of a flooded modern metropolis they wash up to, I was instantly sold. It feels every bit like a Team ICO game but with zero combat and an open world to explore. It is, in concept, my dream game. We'll see how much is there in the final product but I couldn't not include it here.

Sumoman by Tequillabyte Studios
There's something oddly pleasing about the way Sumoman balances, jiggles and moves that makes me want to play this game. Basically it's another physics-based, side-scrolling puzzle/platformer but it's got a spirit I really appreciate. Plus if Sumoman topples over you die and that's hilarious.

THUMPER by Drool
As I said in my follow up post last week: Is it an endless runner? Is it sort of like Rock Band but without the emphasis on instruments? I don't know but it looks splendid and incredible and I will hold on as long as needed in order to play a release version.

White Night by Osome Studios
White Night is absolutely THE most visually stunning game that I'll probably never play. I appreciate the admitted inspirations of the original Alone in the Dark and I love the gameplay of keeping the lights on. But when you add things that chase me into the darkness, I cash out. Still, it is so unbelievably gorgeous. The thinnest edges on the things just barely in sight; the perfect whites and blacks in starkest of contrast to one another. The gritty 1930's setting with matchbooks and gas lamps. I want to see more and hopefully give it a shot myself but I'm probably going to run away.