"Weird Al" would love to be in Rock Band, Guitar Hero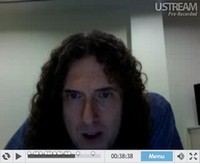 "Weird Al" Yankovic hosted his first ever live, Ustream, Twitter, chat/interrogation thing on Tuesday night and amidst the spontaneous, speaker-crackling yelling and incessant humming he managed to mention something about games.
Specifically, he answered a question about whether or not we'd ever see/hear any of his songs in popular music games like Rock Band or Guitar Hero (it bears mentioning that Like a Surgeon is currently available in SingStar on PlayStation 3, and I rock at it). Al responded by saying that he enjoys the games and would love to see/hear his music featured in them but that someone has to ask him first. Apparently, Al is not almighty enough to simply demand his music be included in these games so please, someone at Activision or Harmonx, hit this guy up already! His polka medlies might require some intricate licensing deals but they would be incredibly fun to play and sing, even if the guitar stands in as the accordion. And we all know it'd make Maxx's dream game a reality. Can ya deny him that?