If you liked the look of Final Fantasy Theatrhythm, look at this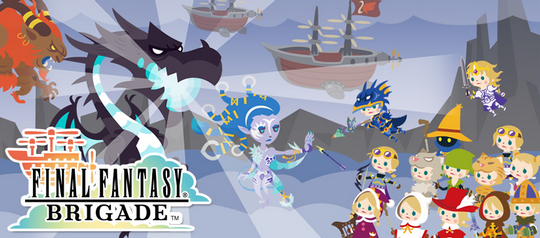 Look at it! Because you probably won't ever get to play it, not in English anyways. That Ninja Gaiden post led me to Mobage's site which led me to a mobile Kinnikuman card battle game which led me to this: Final Fantasy Brigade. It's been out in Japan since January but this is the first I'd heard of it. Brigade is a mobile/social game and as much as I don't like RPGs, the idea of teaming up with friends and planning out turn-based battle strategies seems kinda neat.
Actually playing it aside, just look at it! It's super cute and unlike Theatrhythm which featured Final Fantasy characters in this art style, Brigade lets you roll your own. Base job classes can be combined to create all sorts of adorable characters that run around with those same Final Fantasy stars. You can at least gawp at the game via these two links and it looks like some official capsule toy goodies will be available soon so check your import shop of choice for excessively priced character goods.