I don't think I need next-gen just yet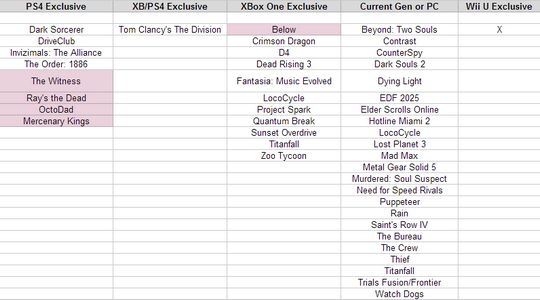 I can't tell what the future will hold; secret money from the family, a bonus at work, a lucky twitter contest win, or if I'll just give in and splurge once Maxx buys a PlayStation 4 or Xbox One (or both). Looking over this list of games I'm interested in that I made over the last week, though, there's still loads to play on current consoles and PC.
Yes, I wanna be there on Day One to check out the new consoles for myself but look at that massive list of games I could already be playing! Earth Defense Force 2025 alone will suck up hours of our time and the PlayStation 3 exclusives — Rain, Beyond, Puppeteer,  CounterSpy — are just as compelling as Dead Rising 3. Not to mention that we still don't know what will be available on launch day for either console.
I didn't get an Xbox 360 or PlayStation 3 until well after their debuts. When people were mugging each other for the latest hardware and mediocre launch games I was still reeling from Shadow of the Colossus, Far Cry Instincts and Urban Chaos: Riot Response. Like I said, I can't tell what will happen this fall when both consoles are finally released but for now I think I'm fine hanging on to the hardware I've already got.