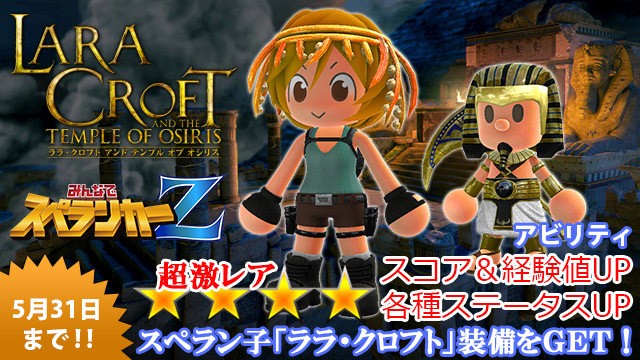 In what I have dubbed the most adorable cross promotion in years, the free-to-play Minna de Spelunker Z now has an assortment of gear themed after Lara Croft and the Temple of Osiris. Most notably is Lara's trademark tanktop and short shorts, made extra adorable in Spelunker's chibi style. It's also really powerful and I want it really bad, but here's the rub.
Gear in Spelunker comes in pieces. As you play stages you'll find little shiny egg thingies which you crack open at the end to see what you've won. It's very gashapon and very grindy. Special Event items are only available for a limited time — in Lara's case it's through the end of May — so you're motivated to play the same specified stages over and over, preferably with other players which boosts your chances.
So, anyone interested in trying? I finally found one person to play with but the game supports up to six players at once and that sounds fantastic to behold, even if we don't get short shorts.