E3: Road Rage puts its own spin on Road Rash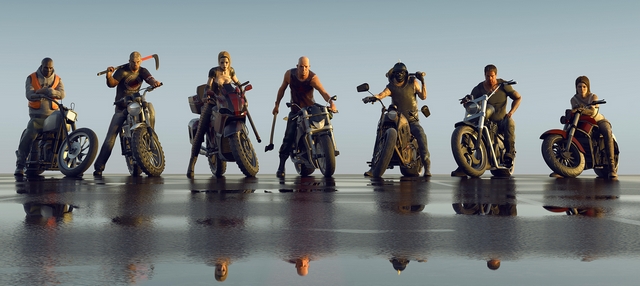 Road Rage was just revealed among Maximum Games's E3 lineup and may brandish the Road Rash torch even better than the long-in-development Road Redemption (which I'm still waiting to be a finished product). Everything they've shown so far is merely target renders and PR copy but it sounds promising and the developer, Team6, has loads of past experience with irreverent vehicle-based antics.
The most important component of a good Road Rash-alike is melee weapons. Road Rage promises "insane weaponry" but so far they've shown the requisite bats, chains and pipes alongside the moderately unexpected axe, katana and hockey stick. I mean, a hockey stick is practically the sniper rifle of melee weapons and that's kinda insane, right?
What's most promising for me are 42 missions that the PR copy labels as "story-driven" with the promise of open world exploration. In past Road Rash titles there was just enough story to string together a little internal narrative as the races unfolded. I don't know that I need someone attempting a Fast & Furious caliber storyline but putting meaning to motorcycle-bound knife fights can only be entertaining, either by design or happy accident. See: Torque
Open world is also open to interpretation at this point. The copy promises "56 additional side missions from delivery and escort to combat races and gang brawls" but it doesn't even mention hidden collectibles which are always a favorite part of mine. It paints a picture in my mind of a small, mostly lifeless cityscape but not everything can be Grand Theft Auto V in scale, especially coming from this small Netherlands based studio. That they even mentioned an open world is enticing enough for me.
Hopefully we see actual gameplay footage by the end of E3 but Road Rage is already planned for a September release so we won't have to wait too long to see it in action. It's coming to PlayStation 4, Xbox One and PC as well so I expect plenty of terrible "Let's Play" serieses to pop up by year's end, maybe even my own. Check out the official site to see a few more target renders and rest assured I'll post more about it when I see it.